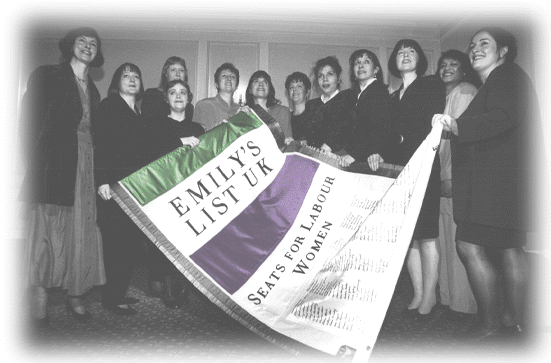 Photograph taken by the Guardian of the EMILY ELEVEN – the first eleven women chosen to be "Emily's List"
From left to right are: Mary Southcott, Janice Gowing, Janet Sillett with Joan Ryan – now MP for Enfield North, standing behind, Jacqui Smith now MP for Redditch, Barbara Follett – Director of Emily UK and MP for Stevenage, Sharon Mainwaring, Loraine Monk, Teresa Pearce, Helen Southworh now MP for Warrington South, Valerie Vaz, and Sally Young
The 1997 General Election was not only a landslide victory for Labour, it also resulted in a significant increase in women's representation in the House of Commons.
Since 1918, only 168 women had been elected to the House of Commons compared with 3,994 men. Women have been woefully under-represented in both the British and European parliaments.
Only 62 of the 650 Westminster seats were held by women from 1992-97. Labour was better represented but even so, of its 274 members of parliament just 39 were women. Across the country as a whole there were wide disparities in the number of women elected. In the 1992 General Election precisely three Labour women were elected to Scottish constituencies. Wales had 27 Labour MPs. Only one was a woman.
The 1997 General Election has seen a large increase in the number of women in the House of Commons with 101 Labour women MPs, 14 Conservative women, 3 Liberal-Democrats, and two Scottish Nationalist Party women, a total of 120 plus Betty Boothroyd, the Speaker of the House. However, there were only four Labour women MPs in Wales, and nine Labour women in Scotland.
The 2001 General Election saw a slight drop in these figures, with 118 women MPs returned to Parliament – 94 Labour, 14 Conservative, 5 Liberal Democrat women MPs, and one each from the Ulster Democrat Unionist, Scottish National Party, Sinn Fein and Ulster Unionist parties.
Since being founded in 1993 to help rectify the problems noted above Emily has give 59 grants to women, of these 26 were selected as candidates, and thirteen, (listed below), are now Labour MPs. Their offices can be reached through the House of Commons switchboard at 020 7219 3000, or where underlined can be emailed directly.
| | | |
| --- | --- | --- |
| • Claire Curtis-Thomas MP for Crosby | E-mail | Website |
| • Lorna Fitzsimons MP for Rochdale | E-mail | Website |
| • Caroline Flint MP for Don Valley | E-mail | Website |
| • Tess Kingham MP for Gloucester (1997) | E-mail | Website |
| • Oona King MP for (Bethnal Green & Bow | E-mail | Website |
| • Margaret Moran MP for Luton South | E-mail | Website |
| • Siobhan McDonagh MP for Mitcham/Morden | E-mail | Website |
| • Kali Mountford MP for Colne Valley | E-mail | Website |
| • Joan Ryan MP for Enfield North | E-mail | Website |
| • Debra Shipley MP for Stourbridge | E-mail | Website |
| • Jacqui Smith MP for Redditch | E-mail | Website |
| • Betty Williams MP for Conwy | E-mail | Website |
| • Helen Southworth MP for Warrington South | E-mail | Website |
| • Gisela Stuart MP for Birmingham Edgbaston | E-mail | Website |
| • The Founder and Director of EMILY, Barbara Follett MP for Stevenage | E-mail | Website |